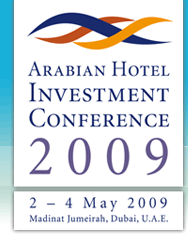 AHIC is the world's premier meeting place for the Middle East's hotel investment community.  Last year, over 1,000 senior executives from around the globe came to AHIC to find out about the latest developments, network and do business.

Now in its fifth successful year, the Arabian Hotel Investment Conference will once again offer you the chance to hear about the key issues that matter to hotel investors and operators in the Middle East market.

In addition to finding solutions to overcoming the challenges facing the hotel industry, you will discover where the new opportunities lie for hotel investors.  You will hear about future hot spots for hotel development.  Plus, you can join sessions on managing through the downturn.

This year, the Summit focuses on Saudi Arabia and promises to deliver some interesting developments.   It's a unique opportunity to hear first hand from from the experts on opportunities on offer in this area.